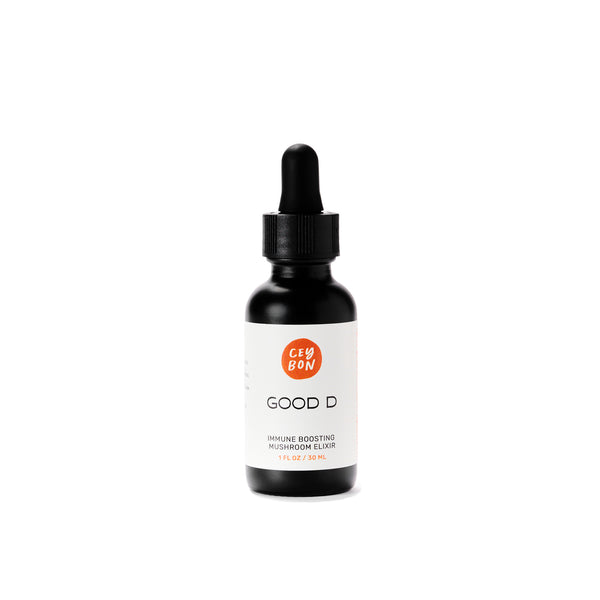 Good D - Immune Boosting Mushroom Elixir
1 oz./ 30 ml, 30 servings- sold in 2 pack
2 oz./ 60 ml, 60 servings- sold singly
Good D. As in Good Defense. As In healthy immune system. Your new Winter soulmate.
How to use: To support your immunity, take Good D as a hot toddy - add 1 dropperful to 6 oz. of hot water with a lemon wedge, morning and night.
Ingredients and their actions (to learn a bit about what the herbs do.):
Qi Tonics: Pau D'arco, Astragalus, Ganoderma, Turkey Tail Mushroom, Siberian Ginseng
Clear Heat, Clean Toxins: Echinacea, Chaparral, Usnea, Dandelion
Tonifies Yin: Marshmallow Root, Ligustrum
Purgative: Da Huang
Clears Heat, Cools Blood: Red Clover, Scrophula
Drains Dampness: Zhu Ling
All are mixed with raw, local honey for its healing and sweetness.
Ceybon products are organic and sustainably cultivated in California.
Made with Love. Share & Enjoy. @Ceybon_apothecary
We make no claims.
*THIS STATEMENT HAS NOT BEEN EVALUATED BY THE FDA. THIS PRODUCT IS NOT INTENDED TO DIAGNOSE, TREAT, CURE, OR PREVENT ANY DISEASE. CONSULT WITH YOUR PHYSICIAN OR QUALIFIED HERBALIST BEFORE USING IF PREGNANT OR NURSING. KEEP OUT OF REACH OF CHILDREN.