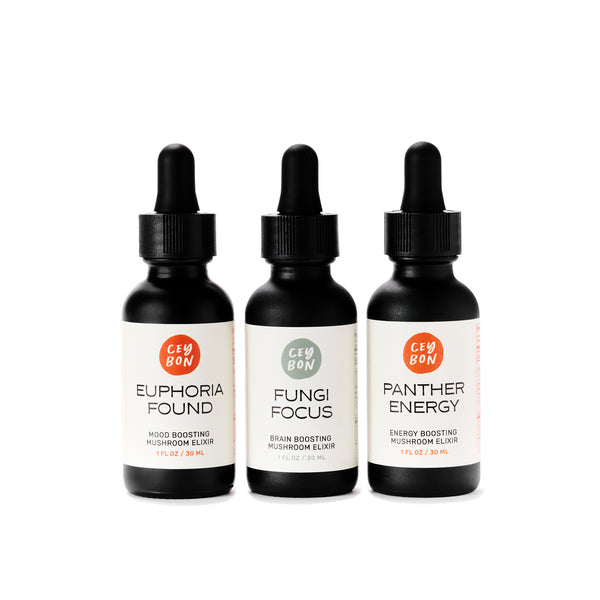 Best for Feeling: HAPPY - SMART - ENERGY
The trio of our bestseller makes 60 drinks of your choice. 
How to use: put 1 dropperful right under your tongue or into sparkling or hot water, garnish with a lemon twist. Add to taste/as needed. Enjoy!
Euphoria Found:
You can't bottle up happiness, but this might just be the next best thing. Loaded with a proprietary blend of healing herbs and raw honey, you're a few sips away from greater physical and emotional ease. And did we mention it's an aphrodisiac?
Ingredients: he huan pi, ye jiao teng, reishi, kudzu, xiang fu, viburnum, gan cao, bai shao, turnera, passiflora, kola nut, fo shou hua, chen pi, bacopa, he huan hua & raw local honey in liquid extract.
Panther Energy: 
Panther Energy creates a focused-yet-calm, sustained energy- much like a jungle cat on the prowl. Whenever you need to mentally or physically catch a gear, this synergistic blend is ready to go.
Ingredients: astragalus, bai zhu, reishi, siberian ginseng, licorice, rhodiola, wu wei zi, dan shen and raw honey in liquid extract.
Fungi Focus: 
Medicinal mushrooms are the superheroes we all wish to be. And in their spare time, they offer us good juice for brain focus and balanced mental energy. Fungi Focus combines medicinal mushrooms with ginseng and blood tonics to up your consciousness game.
Ingredients: siberian ginseng, bacopa, gotu kola, lion's mane, chaga, gou qi zi and raw honey in liquid extract.
Ceybon products are organic and sustainably cultivated in California.
Made with love. Share & Enjoy. @Ceybon_apothecary
We make no claims.
*THIS STATEMENT HAS NOT BEEN EVALUATED BY THE FDA. THIS PRODUCT IS NOT INTENDED TO DIAGNOSE, TREAT, CURE, OR PREVENT ANY DISEASE. CONSULT WITH YOUR PHYSICIAN OR QUALIFIED HERBALIST BEFORE USING IF PREGNANT OR NURSING. KEEP OUT OF REACH OF CHILDREN.